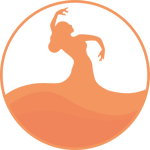 FlamencA, a young festival to claim flamenco and the culture of today.
In just a few years, FlamencA has established itself as one of the most important flamenco events. This sixth edition, from July 28 to August 14, with, among other things, 17 concerts, makes FlamencA the most important and complete event in terms of events offered for a flamenco festival in France.
A festival with ethical values, parity, whose women artists represent 50% of the programming.
Original proposals combining renowned artists and the best talents of the current emerging scene, for which FlamencA has become a valuable gateway both in France and internationally.
Innovative, rich in a wide openness of proposals and original artistic creations of high quality, FlamencA has become a reference event for lovers of the flamenco universe. Concerts of traditional flamenco singing and dancing, recitals of "pure and jondo" singing, tablaos, guitar recitals, shows combining music and poetry, exhibitions, master classes with great Spanish and French artists in various disciplines...
For eighteen days, musicians, dancers, singers, poets, creators, photographers, ... all will participate with their shows representing the most beautiful and historic places in the city of Arles. The Roman theatre, the courtyard of the Archdiocese, the Yvonne Etienne Moulin gardens in Fontvieille.
The three museums of Arles, departmental museum Arles Antique, Museon Arlaten, Réattu museum. The Domaine de Méjanes in the Camargue, art galleries, private places of great beauty such as the gardens of the Hôtel Julio César or the Collaterals. The world heritage city of Arles and its surroundings will be the French epicenter of flamenco and its culture from July 28th to August 14th.
A 6th edition of the FlamencA Festival which will no doubt be exceptional.
In August in Arles, flamenco is queen!
Flamenco is an artistic expression whose genesis is the meeting in Andalusia of several peoples and cultures: Arabs present for eight centuries in the south of Spain, the influences of Sephardic Jewish music, Spanish folk music and the gypsy culture (the gypsies who arrived in Spain in the 15th century).
Even if flamenco is still today marked by a mystery around its origins, we can consider that it was born in Andalusia at the end of the 18th century in the poorest and marginal social strata of the population.
It is a popular artistic expression of oral tradition articulated around three poles: song, dance and guitar. It is a very codified music that is exercised through a whole range of types of songs or dances that are called palos. The palos are musical modalities or structures that are distinguished by their rhythmic cycles, the themes addressed in their lyrics, the geographical origin or the singularity of the interpretation. With several hundred palos or variants of palos, flamenco can be considered the richest folk music in the world.
Flamenco listed in 2010 as Intangible Cultural Heritage of Humanity by UNESCO
The program of the 6th edition