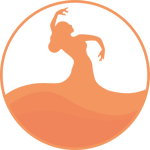 If you want to be kept informed of all our news, You can subscribe to our newsletter.
This April 29, the 6th edition of FlamencA, Flamenco festival of Arles, Alpilles and Camargue was presented in the town hall of Arles, with the presence of the mayor of the city, Patrick De Carolis, the director and creator of the festival, José Manrubia, various personalities, elected officials of the city, artists, members of the Association and a large public.
An ever more ambitious FlamencA festival. Six additional concerts on the bill, from July 28 to August 14, 2023, as a goal; share flamenco culture in its purest and most creative expressions.
An ethical and equal festival where women artists represent at least 50% of the programming. Clever mix between emerging artists and recognized artists. Gypsy and non-gypsy artists, international and national artists.
Dance, song and guitar concerts, exhibitions, courses, musical and poetic creations will be to be discovered in various historical and private spaces in Arles de Fontvieille and in the Camargue. Large stages such as the ancient theater or the courtyard of the archdiocese to give full amplitude to the dance, intimate acoustic recitals lit by candlelight, the purest "jondo" flamenco, original creations of poetry. Courses for beginners and advanced, master classes.
An extensive program of shows and activities will take place from July 28 to August 14 in different areas of this magnificent UNESCO World Heritage city. Emblematic places such as the Roman Theater, the courtyard of the archdiocese, the Arles Antique museum, the Arlaten museon, the Réattu museum, the gardens of the Moulin in Fontvielle. Private places such as the Méjanes estate in the Camargue, the Jules César hotel, the Collaterals, or the Galerie Huit Arles.
Among the participating artists this year are Luisa Muñoz, Cristina Regajo Bravo, Nerea Carrasco, Paula Sierra, Eva Luisa, Alba Bazán or even the young "prodigies" Lucía Beltrán or Lucía Benavides. Emilio Florido, Lucas el Luco, David Nieto, Daniel Caballero, Manuel Gómez, Pepe Fernández, Juan Manuel Fernandez and many more.
A summer under the sign of "duende" in Arles this summer, flamenco reigns supreme!